Using SAS for Epidemiology
Charles DiMaggio, PhD
cjd11@columbia.edu
Tour of the course and materials
Why SAS?
Any computing platform 
Unix, Linix, Windows, etc… 
Any type of data 
ascii, delimited, Excel, etc… 
Large data sets welcome
Any statistical procedure.  
Disadvantages 
Yearly licensing fee
"black box" proprietary code
"one-size fits all" procedures
graphics
(bit of) a learning curve
Why Syntax?
Menu driven version available, but with syntax …
Increased control of analyses

Increased flexibility

Document and recall analyses

Create your own analyses and macros

researchers and analysts should use the syntax-driven SAS-language
Alternatives to SAS?
You bet:
Excel

SPSS

R

EpiInfo

Stata

SUDAAN
1. INTRODUCING SAS
The SAS Environment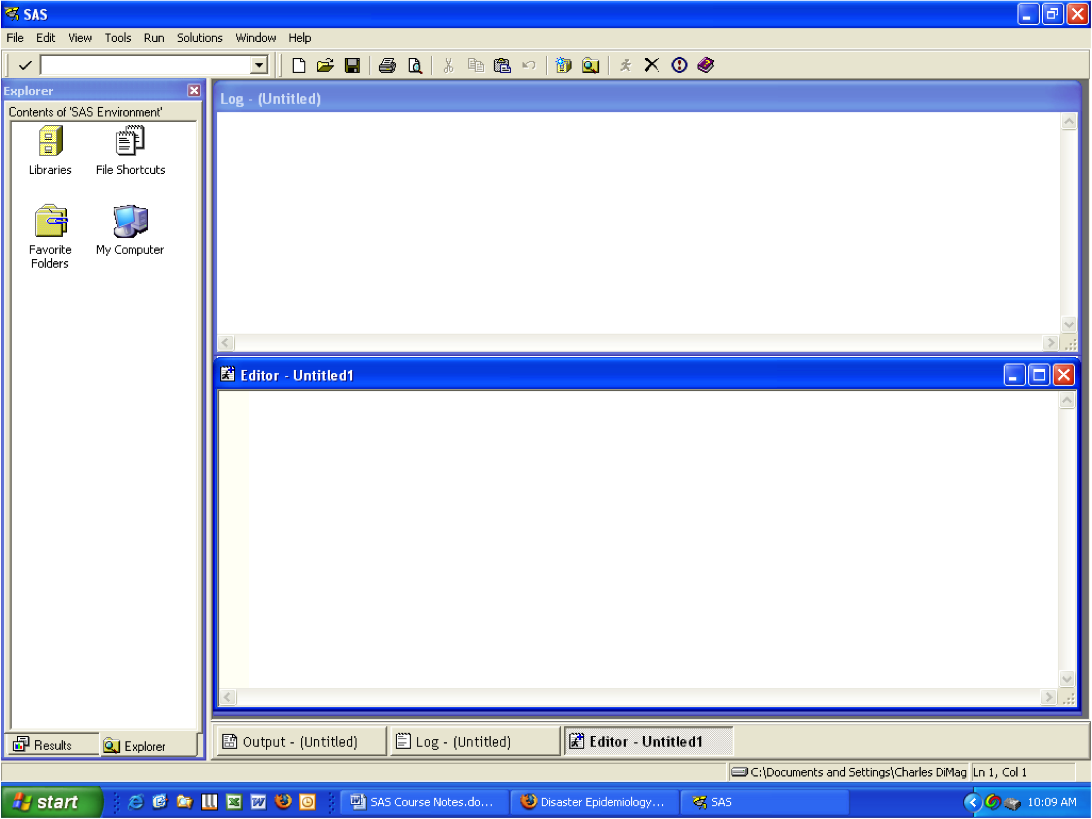 The Program Editor
Where you spend most of your time
Two flavors
Program Editor
Enhanced Program Editor
Painful Lesson:  Program editor window disappears when command is submitted.

Use the Enhanced Editor (view - enhanced editor)
Writing SAS Statements
SAS statements start with a keyword and end with a semi-colon ;
SAS will run statements when it sees the word RUN; 

proc contents data=your.data;  run;
/* -------------*/  
* --------------------;
Submitting Statements
Highlight by left-click dragging your mouse across the syntax 

Click the little running icon on the tool bar

Painful Lesson:  if you don't highlight the syntax and just click the running icon, SAS will run every command in the Editor which may result in destroying or re-formatting data sets, etc…
DEMONSTRATION: AGE AT MI

Two Basic Types of SAS Programs
DATA steps create or manipulate SAS data sets
PROC steps conduct analyses
SAS knows a step is beginning when it sees DATA or PROC; knows one is ending when it sees RUN; QUIT; or another DATA or PROC statement
The tyranny of the semi-colon
In English, a semicolon is used to link two independent clauses.

In SAS, the semicolon is used to demarcate the end of a syntax statement;  SAS likes them very, very, very much.

Most Common Error
Interfacing With Windows
RTF for Word documents

"Save as…" or, highlight, R-click

EMF for figures

Export Utilities e.g. for Excel
Changing System Options:
Tools - Options - System

e.g. center, lines per page, font type and size
More Help…
SAS
Help - SAS Online Tutorial - Getting Started with SAS Software (Sample data in actual SAS environment)
Institutional
UCLA "Starter Kit" (http://www.ats.ucla.edu/stat/sas/sk/)
Books
'The Little SAS Book' (Delwiche and Slaughter)
Google
(of course)
Coming soon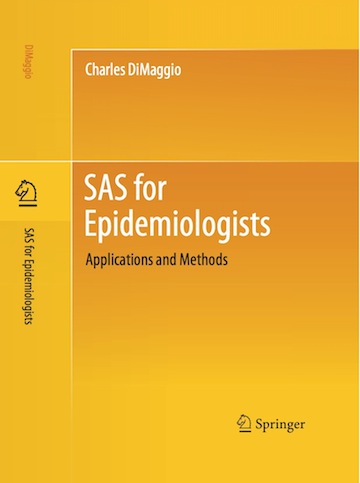 Letting go of the spreadsheet…
"Where's my data?"
Folks often come to program like SAS from program like Excel
Your data is there, and you can get at it.

you can even bring up a spreadsheet
"Why can't I just work with a spreadsheet like in Excel or SPSS?"
You can, but not very useful for the large data sets for which SAS is intended.
(only) two parts to a SAS dataset
Descriptor portion
Like meta-data (type, length, format, label)
Data portion
The numbers and characters themselves

PROC PRINT (or by double-clicking file in SAS Explorer)
(only) 2 kinds of SAS data
Numeric
Missing value .
SAS dates referenced to 1 January 1960
Character
Data set and variable names
must start with character or underscore
Up to 32 characters long (with no spaces or special characters like #)
2. SAS LIBRARIES
LIBNAME
LIBNAME statement creates libref
sparcs.mortality
must be re-issued each SAS session
"New…"  click "Enable at startup"  name 
 Two special libraries
SASUSER
WORK
Browsing SAS libaries
SAS Explorer

'libname' in command window

PROC CONTENTS with ALL keyword
proc contents data=sparcs. _all_ nods;  
*/*note the space between _all_ and nods*/*
run;
INPUTTING AND READING DATA
SAS files are created in a DATA step using INPUT
DATA – names the data set being created

data mylibref.mydataset; */in a named library/*
data mydataset; */in unnamed or work library/*

INPUT – describes how to read the data fields

name the variables, identify them as character or numeric,  and specify locations
Reading data from editor window
'dataline' or 'cards' with semicolon on separate line

fixed columns vs. user-specified formats (better)

Tip: look at your data with notepad first… 
space-delimited and column input
*INPUT var1 var2 var3 \$ ;*
*INPUT var1 1-5 var2 6-10 var3 $ 16-26 ;*
space-delimited:  INPUT list of variable names

column input: indicate column start and end positions

Can't deal with non-standard variables, e.g.dates
reading data from external files: the INFILE statement
INFILE 'F:\\K Data\\SPARCS\\ADR02NY.TXT' LRECl=450 obs=100;
INFILE – identifies the location of the raw data file to read
formatting input of external data: the INPUT statement
INPUT 
@18 DATE yymmn6.
@44 AGE 3.
@50 COUNTY $CHAR2.
;
INPUT pointer control variable informat;

pointer control @n variable begins at column n
informats  how to read in and store data e.g. width of the field, character vs. numeric
informats
*\<\$\>informat_namew.\<d\>*
$ indicates a character variable

informat_name  names the informat

w total width of the field to read. 

. required delimiter

number before the dot indicates the width of the variable

e.g. 8.,  (number by itself without $) 8-length numeric variable

d number of decimal points 
data documentation 
'data dictionary'

variable names, definitions, locations, lengths, informats

often found on download site

may have to request from data vendor or source
SAS Dates
1 January 1960 = 1

December 31, 1959 = -1
January 3, 1961 = 368

date informats 

based on the way dates are stored in the raw data, e.g. yymmn6.
behind the scenes of a DATA step 
DATA  

starts process, names file

INFILE  

creates temporary input buffer to hold observation

INPUT  

moves and stores data from input buffer, associates attributes (e.g.length)

RUN  

creates descriptor portion of file and loops around again to DATA
deciphering error messages
*_ERROR_=1 _N_=10*
_ERROR_= binary flag, 1=error, 0=no error

_N_=10 means happened during the 10th loop 

if the data file specified correctly should be 10th observation

Will also get an indicator of exactly at what column SAS encountered the error, and what the error was

SAS will be kind enough to let you know what it was expecting
common errors
ALWAYS CHECK YOUR LOG
data input tips
SAS automatically reads in decimal points

only reason to specify is if they are implied but not provided in the raw data

Don't forget the dot after the informat

e.g. SAS will misinterpret $3 as a column style input of size one at the 3rd space

SAS assumes 256 character record (observation) length or less

LRECL (long record length command)

INFILE 'c:\myrawdata\whatever.dat" LRECL = 2000;
some informats
$ by itself left aligns the variable and removes leading blanks

$CHAR preserves leading blank values

COMMAn. n columns of data, removes non-numeric characters like commas and dollar signs
MMDDYY8 reads dates in the form mm/dd/yr
taming wild data sets
slash (/) 

skip to and continue reading the next line of data

#n 

skip to a particular line of data 

@@ at the end of the INPUT statement

start a new observation regardless of whether it is at the end of a line of raw data or not

FIRSTOBS = n

OBS = n

IF _n_ = 50 THEN STOP (alternate approach)
importing Excel spreadsheets